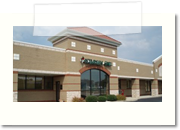 Five Forks Plaza
From their hometown of Serres in northern Greece, the Georgopoulos family moved to Greenville, where patriarch George reunited with his brother Pete, who operated a downtown tailor shop. The family, including sons Steve and John, was quickly assimilated into the local Greek community through the Greek Orthodox Church. It is traditional in Greek culture for men as well as women to know their way around the kitchen - in fact, their ethnicity's passion for food may account for the large number of Greek owned and operated restaurants - and the Georgopoulos family is no exception!

The Olympian Restaurant on Congaree Road in Greenville was established by older brother Steve in 1992. In collaboration with brother John and father George, the family then opened the Olympian Grill in Simpsonville. And most recently, the new Olympian Grill has opened in North Greenville near Furman University.

The Olympian Restaurants, which feature both Greek and Italian cuisine, specialize in proven family recipes. Calzones, sub sandwiches, gyros and souvlaki all sell well. Gyros, a Greek specialty, are pita bread topped with lamb, beef, onions, tomato, lettuce and tzatziki sauce. And souvlaki, another specialty of Greece, is pork tenderloin or chicken breast tenders served with onions, tomatoes, lettuce and tzatziki sauce on pita bread. Beer and wine are available at the Congaree and North Greenville locations - while a full-service bar is available at the Simpsonville location.
---
Visit The Olympian Grill
Five Forks & Woodruff Road in Simpsonville
for a variety of dishes that will stimulate your taste buds.
Phone: (864) 281-1400
Fax: (864) 281-7635
Beer, Wine and Cocktails are available at The Grill.